Research
The Department of Medicine at MUSC is actively involved in all aspects of biomedical research, encompassing various disciplines, departments, centers, and institutes both at MUSC as well as other Medical Centers in the southeast and across the nation. 
The Department's NIH research portfolio is broad and includes a P30 center grant, several U-type grants, and many R-type grants. Many of our investigators have VA Merit Awards as well. There is also a broad range of clinical and translational research activity that encompasses all the major organ systems. These research programs are nationally and internationally recognized for their scientific contributions that are leading to fundamental new insights into human disease.
The Department is also committed to training the next generation of physician-scientists. To accomplish this goal, most divisions have NIH-supported training programs.
DOM Research Symposium 2020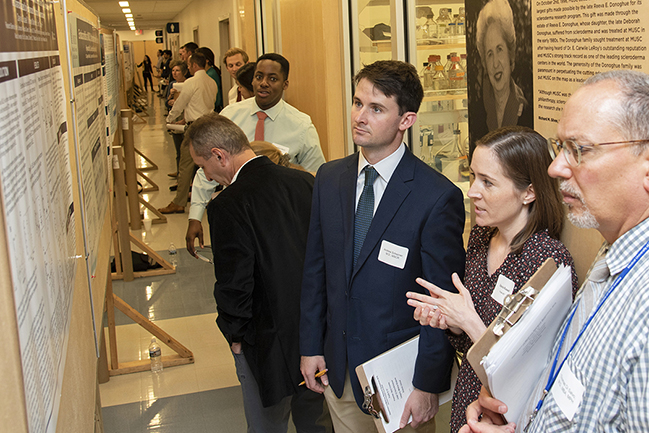 Join us for the 14th Annual Department of Medicine Research Symposium on Friday, April 24, 2020.
Research Programs
All of the Department's subspecialties are engaged in innovative basic, translational, and clinical research with an emphasis on interdisciplinary projects.
Learn more about the research within each division:
The Department of Medicine faculty receives, on average, 28 percent of the MUSC School of Medicine's extramural research funding each year.  We maintain a sustained effort to recruit the best researchers in our divisional areas and to invest in all ongoing programs.