Health Behavior & Health Promotion Research
Faculty members, research staff and students in the Division of Health Behavior and Health Promotion in the Department of Public Health Sciences at MUSC lead and support research across a wide range of topics in South Carolina, across the United States, and around the world. Our work focuses on diverse populations including cancer survivors and their family members, older adults, adolescents, and groups experiencing disparities in health and health care access and use.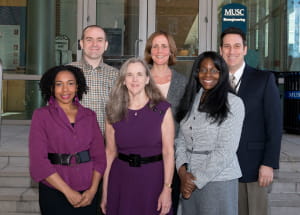 Research topics include:
Cancer prevention and control
Tobacco prevention and control
Sickle cell disease
Health and health care disparities
HIV/AIDS
We use social and behavioral theory and other approaches such as implementation science to promote positive change in health behaviors, reduce individual and population risk, improve health outcomes and quality of life, and assure access to evidence-based care.
We aim to create new evidence for intervention development through research synthesis, to promote the use of evidence-based interventions to improve health care and policy, and to increase individual and group awareness of and participation in research.
We work collaboratively with a wide range of local, state, national and global partners to conduct research and to offer opportunities for our students to participate in research design, conduct, and use.