Spectrum of Sexual Assault - From Victim to Perpetrator
Conference Information
Presented by the Department of Psychiatry and Behavioral Sciences Office of Continuing Education
When:
March 1st .& 2nd 2019 | 8:00 a.m. - 4:30 p.m.
Where:
MUSC, Basic Science Building, Charleston, SC
Credit:
The South Carolina Board of Examiners in Psychology will approve 12.0 Category A credits.
The South Carolina Board of Social Work Examiners will approve approximately 12.0 hours of designated credit.
The South Carolina Board of Examiners for Licensure of Professional Counselors, Marriage and Family Therapists and Psycho-Educational Specialists
will approve 12.0 hours of continuing education credit
Conference Schedule 
Day 1
Friday, March 1, 2019
8:00 A.M. - 4:30 P.M.
Heidi S. Resnick Memorial Charleston Trauma Conference:Current Status of Sexual Assault in America
Day 2
Saturday, March 2, 2019
8:00 A.M. - 4:30 P.M.
Blending Treatment & Assessment in Our Work with Sexual Abusers
Approximately one in four women has experienced a sexual assault, including rape, in their lifetime. This inaugural Charleston trauma conference for mental health and health care professionals will be highlighting the prevalence and impact of sexual violence within the United States. In addition, evidence based interventions and local resources to assist victims will be discussed. This workshop will address unique barriers to reporting and steps that can be taken to overcome those barriers. The presenters will also examine the significant impact of a timely response to victims has on the community and the importance of building positive relationships that encourage trust and respect.
Conference Location
Medical University of South Carolina
Basic Science Building
173 Ashley Avenue
Charleston, SC 29495
Costs
Choice of full, two-day conference or one-day (either day, please specify) 
Early Registration (Received on or before 1/25/19)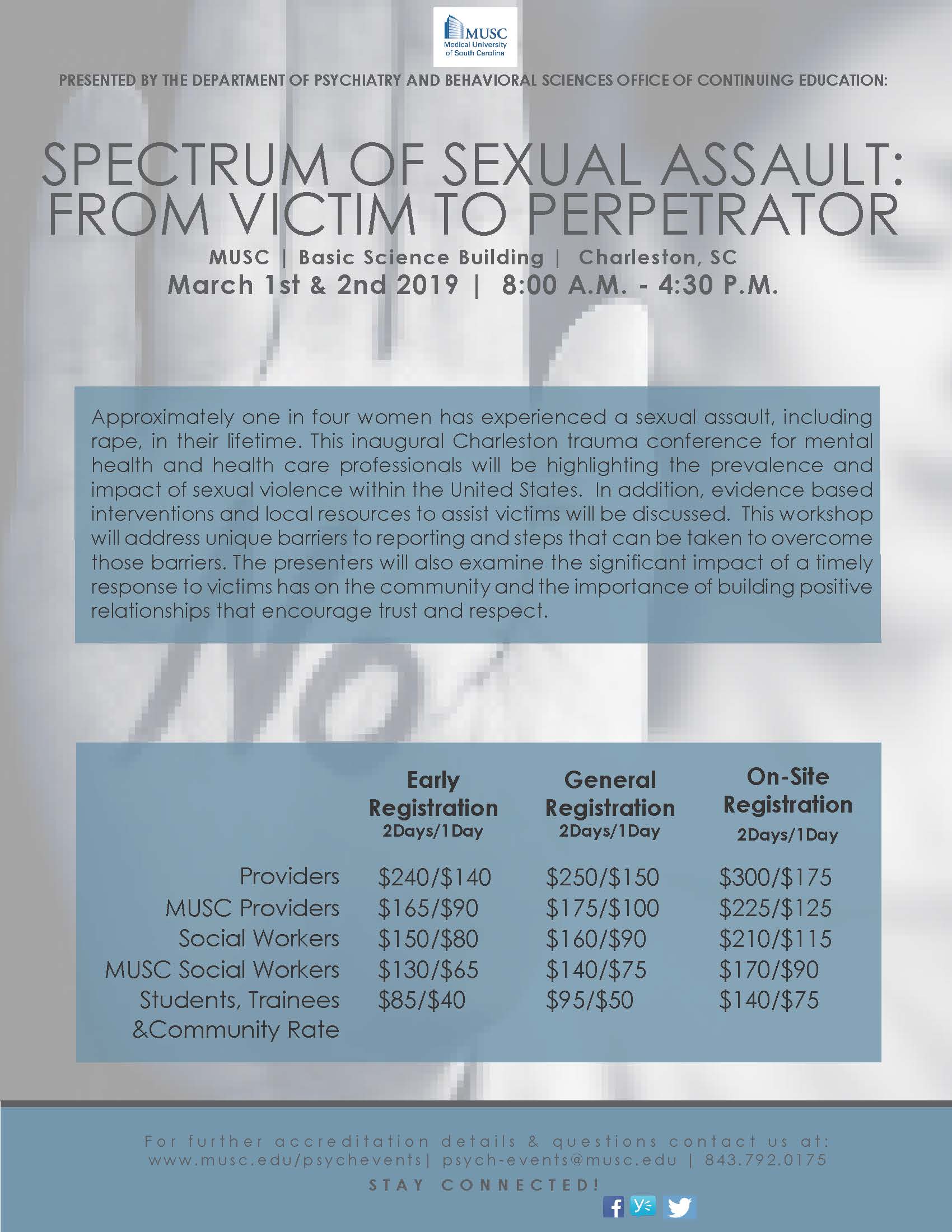 Registration Information
Call 843-792-0175
Email psych-events@musc.edu
Or mail payment to: Jessica Carter Continuing Education Office MUSC Psychiatry and Behavioral Sciences 67 President Street, MSC 861 Charleston, SC 29425