Medical Students Program
Neurology & Rehabilitation Medicine Clerkship Moodle
View the Clerkship Moodle
YEAR III Neurosciences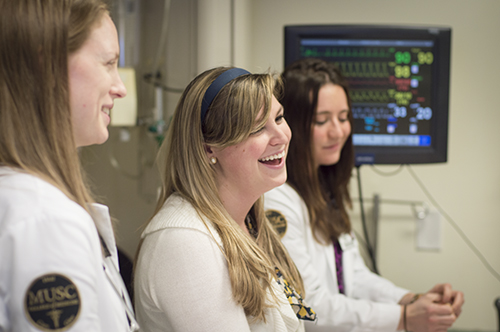 The three week Neurology and Rehabilitation Medicine Clerkship introduces students to the care of patients with neurological disorders and conditions, as well as the role of rehabilitation medicine in improving the patient's functional status and quality of life. Emphasis is placed on performing, documenting, and presenting verbally histories and physical examinations of patients with neurological diseases, developing a differential diagnosis, assessment, and treatment plan, participating in the treatment of neurology patients, and understanding the impact of neurological illness on the patient and family. Each student will have direct patient contact with supervision from the house staff and neurology faculty. In addition to the inpatient and outpatient rotations, the students will be required to participate in two rehabilitation medicine experiences (OT, PT, Speech, etc.). The experiences are supplemented with lectures, small group discussions, online modules and a simulation lab held at the end of each block.
Prerequisite for the Clerkship: Successful completion of second year courses and a passing score on Step 1 of the United States Medical Licensing Exam.
For questions regarding the Clerkship, please contact Jerri O'Banner, either by phone 843-792-0078 or via email at stanleyj@musc.edu.
YEAR III Neurosciences
Neuroscience Selectives
View Year III Neuroscience Course Selectives (PDF)
Due to the creation of the Neurology and Rehabilitation Medicine Core Clerkship, the Neuroscience Selectives are currently limited to: Neurosurgery and Physical Medicine and Rehabilitation. These three week Selectives are designed to build competence and proficiency in the technique of medical/neurological history and physical examinations, especially emphasizing the integration of these skills in assessment of neurologic function.
Please arrange those experiences by contacting Jerri O'Banner, either by phone 843-792-0078 or via email at stanleyj@musc.edu.
Year IV Neuroscience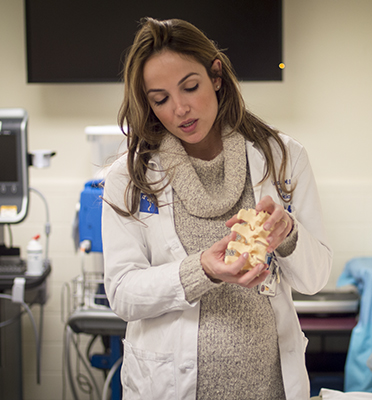 The Department of Neurology and Neurosurgery offers a diverse array of opportunities for the fourth year medical student to further his/her interest in Neurosciences. These electives are a valuable opportunity for MUSC fourth year medical students, as well as to visiting medical students, who may be exploring Neurology, Neurosurgery, or Physical Medicine, and Rehabilitation as a career. These rotations allow more active participation in the evaluation and care of patients with neurologic disorders.

Examples of the Neuroscience Rotations: Neuro-Intensive Care, Stroke, Pediatric Neurology, Adult Neurology, Palliative Care, Neuro-Genetics, and Physical Medicine and Rehabilitation. In addition, there are three Neurological Surgery rotations: Adult Neurosurgery, Pediatric Neurosurgery, and Spine Neurosurgery.
Other Neurology subspecialties are available if interested. Please arrange those experiences by contacting Jerri O'Banner, either by phone 843-792-0078 or via email at stanleyj@musc.edu.
Student Interest Group in Neurology
Also, the American Academy of Neurology(AAN) sponsors SIGN (Student Interest Group in Neurology) at MUSC, which provides a way for students to:
Learn about diverse practice opportunities in Neurology, and its subspecialties such as neuro-intensive care, neuro-opthamology, stroke, behavioral neurology, pediatric neurology, neurogenetics, or epilepsy research.
Obtain free student membership in the American Academy of Neurology.
Be matched with a neurologist as a preceptor or mentor.
Compete for summer research scholarships sponsored by the AAN.
For more information on this program, please contact Jerri O'Banner by phone at 843-792-0078 or email at stanleyj@musc.edu
AANS Medical Student Chapter
*Please note, the MUSC chapter is in the process of being established. Contact Jerri O'Banner, either by phone 843-792-0078 or via email at stanleyj@musc.edu, for additional information.
This chapter provides a forum for student to organize professional, educational, and research activities within the Medical University of South Carolina. The chapter also promotes mentorship and facilitates participation at the national level for the next generation of neurosurgical leaders.
Chapter Benefits
Access to AANS opportunities, events, and AANS Medical Student membership for chapter members.
Assistance in developing relationships with local AANS members.
Early involvement in the AANS Mentorship program and invitation to the mentorship sessions and socials at the annual meeting.
Early involvement in AANS Young Neurosurgeons Committee leadership opportunities, meetings, and projects
Availability of AANS-sponsored information pertaining to neurosurgery as a career, residency training programs, research opportunities, awards, etc.
Grants will be available for educational programs.