Rheumatology & Immunology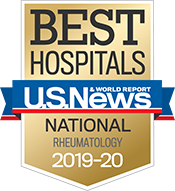 The MUSC Division of Rheumatology and Immunology is nationally recognized for excellence in patient care, innovative research, and outstanding training focused on the pathogenesis of autoimmune diseases. In 2019, the MUSC Health Rheumatology team was ranked 13th in the U.S. News & World Report list of best rheumatology programs, placing it in the top 1% of programs nationwide. 
Education
The Division is proud to be training the next generation of physicians and investigators who will study and care for patients who suffer from rheumatic diseases. Faculty members actively participate in educating medical and graduate students, residents, clinical fellows, and postdoctoral research fellows.  Under the leadership of Faye Hant, D.O., the Rheumatology Fellowship Training Program is fully accredited and comprised of six clinical and research fellows selected from a competitive pool of candidates. Fellows are supported in part by a NIH Training Grant (Gary Gilkeson, M.D., PI). The Rheumatology Fellowship Training Program offers fellows the opportunity to see a wide array of rheumatic disease patients in a variety of clinical settings, to participate in clinical and basic research, and to obtain advanced training leading to a Master's Degree in Clinical Research.
Learn more about our Rheumatology & Immunology Fellowship Program
Research
The Division of Rheumatology and Immunology has an internationally recognized multidisciplinary research program encompassing clinical, translational, and basic research focused on systemic sclerosis and systemic lupus erythematosus. Members of the Division receive funding from the American College of Rheumatology, Arthritis Foundation, Lupus Foundation, and Lupus Clinic Trials Consortium. Division faculty authored more than 50 articles/abstracts last year, including papers in leading medical and scientific journals, e.g., Journal of Biological Chemistry, Arthritis & Rheumatism, and the Journal of Rheumatology. Faculty members serve on numerous federal and private scientific review committees, editorial boards, and as officers of state and national organizations. 
Learn more about our Rheumatology & Immunology Research Program
Patient Care
The Division has a long tradition of providing outstanding care to patients of all ages who suffer from rheumatic diseases.  With a team of nationally renowned faculty, MUSC Rheumatology has consistently placed in the top 20 U.S. News & World Report annual rankings for the past 11 years.
The Division has earned an international reputation for its care and research relating to two autoimmune connective tissue diseases - scleroderma and lupus. Most recently, the Division was approved for the creation of the MUSC Inflammation and Fibrosis Research Center of Economic Excellence through the SmartState® SC Centers of Economic Excellence Program which focuses on clinical and translational research related to both scleroderma and lupus.
Learn more about our Patient Care services
Under New Leadership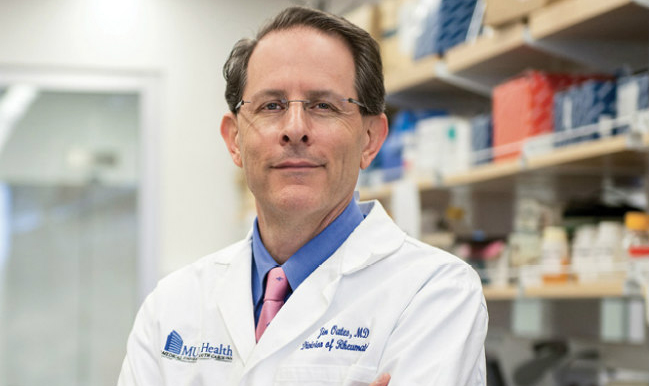 New director of Division of Rheumatology and Immunology continues a strong research and clinical care legacy