Required Clerkships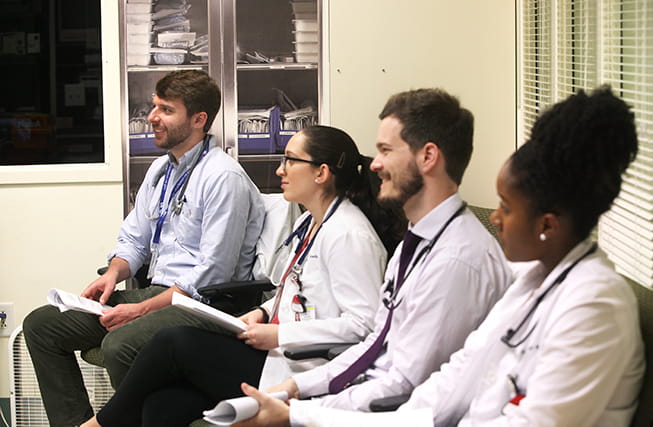 Family Med Rural Clerkship
Family Medicine is a six-week clerkship in which students are assigned to a family medicine practice throughout the state of South Carolina. Students gain core clinical skills and knowledge in primary care with an emphasis on the importance of ambulatory care and the patient-physician relationship.
Internal Medicine Clerkship
Internal Medicine is an eight-week clerkship that includes six weeks of inpatient experience in which students care for hospitalized adult patients with a variety of medical problems and two weeks of ambulatory experience in which they develop skills to enable provision of primary care services. These experiences provide ample opportunity to gather histories, develop differential diagnoses, formulate assessments, and develop treatment plans for patients with a variety of diagnoses.
Neurology/ Rehab Med Clerkship
Neurology and Rehabilitation Medicine is a six-week clerkship that includes inpatient and ambulatory experiences as well as a week working in an inpatient rehabilitation facility. This clerkship fosters students' abilities to obtain a neurologic history, perform the neurological exam, and deepen their understanding of rehabilitation services.
OBGYN Clerkship
Obstetrics and Gynecology is a six-week clerkship during which students learn about all elements of women's health care including pregnancy care, preventive care, management of gynecologic complaints, perioperative care, and gynecologic cancers. Students participate in inpatient and outpatient care of women and encounter a variety of surgical experiences under supervision.
Pediatrics Clerkship
Pediatrics is a six-week clerkship during which students develop clinical skills to manage healthy and ill infants, children, and adolescents in collaboration with their families. Clinical experiences occur in the general pediatric wards, pediatric emergency department, newborn nursery, and ambulatory settings.
Psychiatry Clerkship
Psychiatry is a six-week clerkship that introduces students to the care of psychiatric patients with the goal of helping students recognize, diagnose, and treat psychopathologies using empathetic, patient-centered care.
Surgery Clerkship
Surgery is a six-week clerkship during which students are introduced to the care of surgical patients with an emphasis on establishing a diagnosis, learning the pathophysiology of surgical diseases, participating in the treatment of surgical patients, and supporting patients before, during, and after surgery.