Lupus Research Group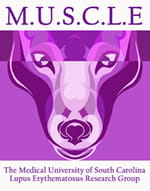 The Medical University of South Carolina Lupus Erythematosus research group (also known as M.U.S.C.L.E.) is comprised of faculty and staff with interests in clinical, translational, and basic research related to lupus and community outreach to improve knowledge and awareness of lupus.
The M.U.S.C.L.E. faculty principal investigators include clinical and translational scientists Drs. Gary Gilkeson, Diane Kamen, Jim Oates, Tasha Ruth, Melissa Cunningham, Hazel Breland, basic research scientists Tammy Nowling, John Zhang, and human genetics researcher Paula Ramos. Our clinical research effort includes investigator-initiated observational and interventional studies and industry sponsored treatment trials for lupus. Administered through the Clinical and Translational Research Center (CTRC), these studies are focus on biomarkers of lupus and lupus nephritis disease activity, the impact of vitamin D and other environmental factors on autoimmune disease, biomarkers of atherosclerosis and bone health in lupus, oral health and lupus, and the role of stress in the lives of patients with lupus.
Our industry sponsored trials are designed to test a variety of new therapies that are intended to be more targeted with fewer adverse effects compared to current therapies used for the treatment of lupus. Our basic and translational research efforts focus on the role of reactive intermediates in the pathogenesis and disease damage involved in lupus, the role of complement in lupus, and genes involved in the regulation of inflammatory processes in lupus. Please visit our individual faculty pages to learn about each member's research interests. Patients interested in participating in research are invited to contact one of our study coordinators to learn more details about our research trials.
Information, Podcasts, & Videos
Lupus FAQ
Check out Dx.Lupus for answers to your Frequently Asked Questions (FAQ) about lupus
Lupus Support Group and Local Chapter of the Lupus Foundation of America
For information on the "Lupus: Listening and Learning Group" in Charleston, please contact Michele Singletary at 843-729-0289. Meetings are the 2nd Monday of every other month, from 6 p.m. to 7:30 p.m. in the Fellowship Hall of Mount Pleasant Presbyterian Church. All patients with lupus, family members, friends and supporters are invited!
Online Resources
For more information about Lupus Research at MUSC or to join our mailing list, contact: lupusresearch@musc.edu or call 1-866-859-6107 (toll-free) or 843-792-8997.
A list of our currently enrolling Lupus Clinical Studies can be found on the MUSC Clinical Research website.
Visit our research to learn more about our basic and translational research labs.
Lupus Group Announcements
Learn about the latest news and events from the Lupus Foundation of America.
Check Out the New Videos from the LFA on YouTube
Learn more about lupus and find out ways you can help bring greater attention and resources to lupus.