Charleston and the Lowcountry
About Charleston
Charleston, South Carolina, is a city known for its enchantment and charm, as well as its fascinating beauty, history, and culture. Since its settlement in 1670 by English colonists, the charming historic seaport of Charleston has been a favorite vacation and relocation destination.
Steeped in history, Charleston is often called a "living museum."  Its past and present are intertwined like no other city and are evident in its culture, architecture, plantations, and famous gardens.
With its lively and historical festivals and cultural events, there's never a dull moment in Charleston. From the Southeastern Wildlife Exposition every February, to the Spoleto Festival USA held each May, to the wide array of nightlife activities, there is always something going on in Greater Charleston. The mild coastal climate makes Charleston's world-renowned golf courses and beautiful beaches fun to enjoy year-round.
Come to Charleston and see for yourself.
Charleston in a Snapshot
Based on the latest census figures, the population of the Charleston area is 594,899. Charleston Battery Houses
Charleston's aquarium was ranked by Coastal Living.com as one of the top 10 aquariums in North America.
Charleston's name is derived from Charles Towne, named after King Charles II of England.
The average yearly high is 73F and the average yearly low is 59F.
America's most-published etiquette expert, Marjabelle Young Stewart, has recognized the city since 1995 as the "best-mannered" city in the U.S.
Charleston boasts of many restaurants regularly featured on nationally televised shows on the Food Network as featured by the likes of Rachel Ray, Giada de Laurentiis, and Bobby Flay.
The Academic Magnet High School (ranked #11 by US News and World Report) is located in Charleston.
The Arthur Ravenel, Jr. Bridge across the Cooper River opened on July 16, 2005, and is the largest cable-stayed bridge in the Americas.
The racial/ethnic makeup of Charleston is 65.2% White Americans, 31.6% Black Americans, 1.6% Asian Americans, and 2.4% Hispanics or Latin.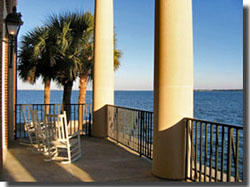 Charleston hosts the annual Food + Wine Festival, Volvo Car Open Tennis, Cooper River Bridge Run, and the Southeastern Wildlife Exposition.
Charleston is home to a number of professional minor league and amateur sports teams including the Charleston Battery (professional soccer team), the Charleston RiverDogs (Minor League Baseball team that is also an affiliate of the New York Yankees), and the South Carolina Stingrays (ice hockey team, an affiliate of the Washington Capitals and 2009 Kelly Cup Champions). Additionally, many of the Charleston-area communities and schools have regionally and state recognized sports teams.
Individuals such as Stephen Colbert (comedian), Vanessa Minnillo (correspondent) and Darius Rucker (band Hootie and the Blowfish) call Charleston home.
To get an idea of how the cost of living compares to where you live now, click here for CNNMoney.com's Cost of Living Calculator.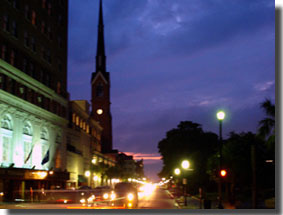 Helpful Sites for Visitors