Department of Neurology
Welcome!
Our faculty comprises a distinguished group of collegial pacesetters who constantly seek to improve the outcomes of patients with neurological disorders by spearheading innovative research; training  the next generation of competent clinicians and accomplished academicians; and providing state-of-the-ART (accessible, relevant, timely) care.
We have seasoned clinicians  in neuromuscular disease (myasthenia gravis, amyotrophic lateral sclerosis, peripheral neuropathy, etc.), epilepsy (all types of seizures), stroke (ischemic strokes, aneurysms, etc.), neurocritical care (complicated and severely ill patients), movement disorders (Parkinson's disease, tremors, dystonias, etc.), neurooncology (brain and spinal cord tumors), multiple sclerosis (and other autoimmune disorders affecting the nervous system), cognitive disorders (Alzheimer's disease, vascular dementia, mild cognitive impairment), headache (and other pain syndromes), neuroophthalmology (pseudotumor cerebri, etc.), and general neurology.
Due to our firm commitment to research, we have led or participated in several practice-changing clinical trials in all disciplines of Neurology, and continue to do so, with several of our faculty members winning prestigious national awards recognizing excellence in clinical research and serving on national/international committees that advise governments, non-governmental organizations, providers and the public on neurological research and practice.
We are dedicated to training successive generations of competent and compassionate neurologists. Our various educational programs are designed to provide trainees with a broad base of knowledge in neurology, and the clinical acumen to discern and treat the spectrum of neurologic diseases. Trainees are routinely exposed to cutting-edge treatments and clinical trials while caring for their patients, and are encouraged to participate in research projects under the supervision of a faculty mentor. Several trainee-led projects have been presented at national conferences and published in peer-review journals. However, our programs are also adaptable enough to meet the individual needs of our trainees (and an ever-changing medical practice climate), and we enjoy developing unique and novel ways to enrich their educational experience.
Please take the time to explore our website and learn more about what we do. We also invite you to physically visit us, tour our facilities, meet our faculty, and interact with our housestaff. We welcome your participation in MUSC Neurology as patients, trainees, referring physicians, researchers, or philanthropic donors, and encourage feedback regarding any aspect of our service or mission.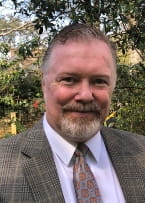 Jonathan C. Edwards, M.D.
Professor and Chairman,
Department of Neurology