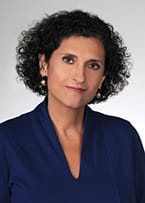 Carol Feghali-Bostwick, Ph.D.
Professor and SmartState and Kitty Trask Holt Endowed Chair for Scleroderma Research
Division of Rheumatology & Immunology
Carol Feghali-Bostwick, Ph.D., was recruited to the Division of Rheumatology and Immunology in 2013 as the SmartState and Kitty Trask Holt Endowed Chair and Professor of Medicine. Dr. Feghali-Bostwick earned her Ph.D. in Microbiology and Immunology at Tulane University in New Orleans, LA. Dr. Feghali-Bostwick leads a team of clinical and basic scientists focusing on the pathogenic mechanisms underlying fibrosis whose goal is to identify novel targets for therapy and develop new anti-fibrotic strategies for scleroderma/systemic sclerosis, idiopathic pulmonary fibrosis, and other fibrosing conditions. Dr. Feghali-Bostwick also contributes to the mentoring of young physician and academic scientists.
Work in the Feghali-Bostwick laboratory has been supported by grants from the NIH, NIAMS and NHLBI, the SmartState SC Centers of Economic Excellence, the Kitty Trask Holt fund, and the Merdie Shoemaker Scleroderma Research Fund.
Publications:
Feghali-Bostwick C, Medsger TA Jr, Wright TM. Analysis of systemic sclerosis in twins reveals low concordance for disease and high concordance for the presence of antinuclear antibodies. Arthritis Rheum. 2003; 48(7): 1956-63.
Pilewski JM, Liu L, Henry AC, Knauer AV, Feghali-Bostwick CA. Insulin-like growth factor binding proteins 3 and 5 are overexpressed in idiopathic pulmonary fibrosis and contribute to extracellular matrix deposition. Am J Pathol. 2005; 166(2): 399-407. PMCID: PMC1602317.
Fertig N, Domsic RT, Rodriguez-Reyna T, Kuwana M, Lucas M, Medsger TA Jr, Feghali-Bostwick CA. Anti-U11/U12 RNP antibodies in systemic sclerosis: a new serologic marker associated with pulmonary fibrosis. Arthritis Rheum. 2009; 61(7): 958-65. PMCID: PMC2739404.
Yamaguchi Y, Takihara T, Chambers RA, Veraldi KL, Larregina AT, Feghali-Bostwick CA. A peptide derived from endostatin ameliorates organ fibrosis. Sci Transl Med. 2012; 4(136): 136ra71.