Get to Know Dr. Robert Adams
Where were you born?
I was born in Charleston…well ok, Charleston, Arkansas. It is one of those sad little towns that had more people living there in 1950 than it does today. When you drive through Charleston, Arkansas you find yourself asking "Why is this town here?" …there is no river, no junction of mighty railroads or highways…but there it was...is.
Did you always want to become a neurologist?
I thought I wanted to become a priest...well I'm not sure how much I really thought about it. I only lasted 3 years in the monastery and I decided I did not want to be a priest after all. When I was asked as a kid what I wanted to be I would say "I want to be in charge." So I thought that engineering with an MBA would be a good way to go but I never made it to the MBA. After working about 3 years as an engineer for A T &T in St Louis, one day, for some reason, I asked myself if I would be happier at age 50 if I was doing medical research to help people or if had I stayed on my current course and became District Manager of the telephone company for Eastern Missouri.
What happened next?
The path to medical research led back through engineering. I first got a job as a Post Doc in Boulder Colorado in the Engineering School but in a heavily bio research environment. After two incredible and somewhat odd years, being a grad student in one of the most whacked out but interesting places in the US, I got a degree in Engineering Design and Economic Evaluation. My Master's Thesis was based on the analysis of neuronal recordings and EEG from the common garter snake. Go figure. I was not sure about medical school but I thought I would apply in my home state Arkansas and if they took me I would go. I got in.
What are your thoughts on your Medical School experience?
The University of Arkansas for Medical Sciences was a pretty good place to be back then. Students got to do a lot of procedures that they only get to watch being done today.
Why did you decide to do a residency in Neurology?
I was one month away from starting a Neurosurgery Residency when I got cold feet…realizing that it was going to be awfully hard to do good research (I knew I wanted to do research from day one) and avoid being one of those surgeons people try to keep out of the operating room because they're dangerous.
What has been a large clinical interest of yours?
As a young faculty member I had the good fortune to get involved in the problem of stroke in children with Sickle Cell Anemia, a project with which I would be involved the rest of my life. It turned out to be a rare opportunity to contribute to the well-being of children without actually having to be a pediatrician.
What had started off for me as an academic "target of opportunity" became personal when I found myself late one night outside the pediatric ICU, trying to find the words to explain to the mother of a young child with Sickle Cell Disease that her beautiful 3 year old boy had had a massive stroke and was not going to live. From that night on it was somewhat of a quest. In the next 25 years I would have the privilege of working with many wonderful professionals, families and children in battling, and partially defeating, this terrible problem.
What advice do you have for people just starting in their careers?
You need to love what you do. I am very proud of a comment made to a colleague of mine in Augusta when I was a young faculty. A medical student had just rotated with me, and my friend asked him what he wanted to do with his career. He said "I don't know but I hope I enjoy it half as much as Dr. Adams enjoys what he does."
How long have you been with MUSC's Neurology Department?
So far in 8 years here I feel very lucky to be in this department, in this city, in this state. But as each year goes by I feel more a part of this Charleston.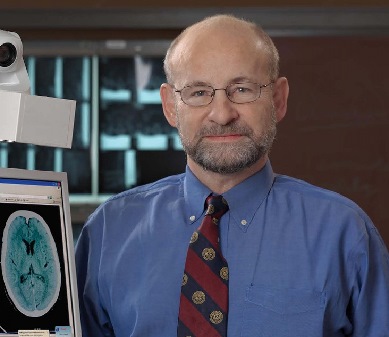 Dr. Adams working to move the Palmetto State from the highest stroke rate in the nation, to the lowest.