Get to Know Jamie Folsom, NP
What brought you to Charleston?
I was born in New Jersey and moved to Charleston to attend the College of Charleston where I earned my Bachelor of Arts in History.
Why the career switch from a BA?
After college, I became a sales manager for a local publishing company. I had my two kids while I was working that job and I wasn't happy. I wanted to set a good example for my children. I knew I wanted to be in health care, and I think that comes from my EMT background. Naturally, I attended MUSC Nursing School.
Did you have an interest in Neurology from the start?
It is funny because I hated Neurology in nursing school. It was always the last chapter, and the most detailed. When I finished school, my husband was a stay at home dad and I needed to start a job quickly so I accepted an offer on 9E. Suddenly, I found myself as a Neuro Nurse and it was truly a blessing in disguise.
How did you move from a floor nurse to an NP?
After some floor experience, I decided that my goal would be to earn my NP degree. I worked as a floor nurse full time at MUSC while attending NP school online through USC.
How long have you been an NP?
A year and a half. A position opened and MUSC waited for me to graduate before they made a selection for hire. I still work 1 to 2 shifts per month on the floor on 9E. It is so great to see the other side of what I do as an NP.
What's your favorite part of being an NP?
I can comment on both an NP and Neuro Nurse. In terms of an NP, it's fascinating to learn so much about the brain. The brain is such an uncharted territory; there is so much we still don't know. I also love the challenge of pin pointing where in the brain someone's symptoms are coming from. That part of the body is so intricate. As a Neuro Nurse, I enjoy the fine-tuned assessment on the patients. It becomes a gift over time to really pick up on small changes. No matter what, every day I leave and feel like I was challenged.
What's your favorite thing about working at MUSC?
I love being a part of a teaching hospital. I am always learning something. Residents have all sorts of unique experiences that we all learn from. It's so wonderful to always be learning what's the latest and greatest.
What's next?
I am partaking in a Neuro Vascular Fellowship for NP's. This is a 12 to 14 month online program that is completed by taking a board exam and participating in a one week fellowship at a Comprehensive Stroke Center.
When you are not working or studying, what do you do for fun?
My husband and I have built our dream veggie garden. It's healthy and organic- we love it. We spend lots of time in the yard at home in James Island. We have 2 boys who are 8 and 11, 2 dogs (one is a Great Dane), 2 cats, and 4 chickens. I am also very active. My favorite activity is running.
To live in Charleston, one must appreciate its unique dining science. What are your favorite places?
We love to try new restaurants. We love Italian, especially Al Di La, Pan E Vino, Trattoria Lucca and Wild Olive.
Why would someone want to join the MUSC team?
We have world renowned physicians. We are the buckle of the stroke belt, so for anyone interested in studying stroke, this is the place to be. Our high volume service can range from 12 to 30 patients. A large chunk of patients are also referred to us from outside hospitals that are unsure how to care for complex cases. I think our attending are wonderful and we have fabulous residents. It is a truly amazing environment to learn in, always fast paced and always challenging.
What advice can you give someone who is looking to switch careers for one in health care?
"The biggest risks get the biggest rewards."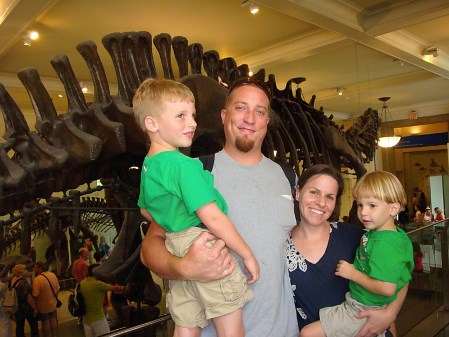 Jamie and her family at the Museum of Natural History in New York.