Get to Know Elizabeth Koontz, NP
Where are you from?
I grew up in Summerville, SC and I have lived in the Charleston area most of my life.
What brought you to MUSC?
I have been at MUSC since 2001 in several different positions. After graduating with a psychology degree, I became a lab assistant in the main lab here. I then went through MUSC's BSN/MSN program. While obtaining my degree, I worked as a Therapy Assistant at the Institute of Psychiatry. After getting my RN degree, I worked on the orthopedic trauma floor until graduating and moving into my current position as a nurse practitioner.
How did you become interested in Neurology?
There were often patients with neurological issues when I worked on the orthopedic trauma floor. I heard about a position opening in Neurology at that time. This job interested me because there is a lot of overlay between neurology and psychology.
What makes Charleston a desirable place to live?
I was born and raised here and it is awesome. The cuisine, beaches, arts, activities for kids-there is so much to see and do and the weather is perfect. I love that we have almost year round warm weather. I have only seen snow a handful of times in my life and could never live somewhere with cold weather.
What makes working in Neurology at MUSC enjoyable?
Working with my great colleagues in the Epilepsy Center, getting to know my patients, and working to help them control their epilepsy and improve their quality of life. I also enjoy having my own clinics and the autonomy that comes with that and at the same time knowing that Attending Physicians are always available to help if needed. I enjoy working at a University because we have the opportunity to be exposed to continuing education and research.
What do you do for fun?
My husband, Richard, and I have two children, a two year old and a 5 month old so my free time is spent with my family. We love to get up early on a Saturday morning and head downtown to the Farmer's Market at Marion Square.
What is something unique about MUSC's Epilepsy Division?
We are the only Level 4 Epilepsy Center in the state. Our program strives to provide comprehensive care for all patients suffering from epilepsy. We provide multiple treatment options for intractable epilepsy which include medicine, surgery, dietary treatment, and implantable devices
What are you most proud of?
I am learning how to balance a career and two young children. I think this is my biggest accomplishment.
What are your clinical interests?
I enjoy working with women with epilepsy. Many women are unsure if they can have a pregnancy due to their seizures. With the right planning ahead of time and close follow up, most women with epilepsy can have a normal pregnancy, labor, and delivery. I also have an interest in helping patients diagnosed with nonepileptic events.
Who has been a mentor to you?
Gigi Smith has helped me understand how to treat not only the seizures but the whole patient. She has encouraged me to stay involved in research and education and has been my "go to" person when I have a question. Dr. Edwards is also a great role model and it has been great to learn from him. He is very passionate and goes above and beyond for both his patients and employees. All of the attending physicians within the Epilepsy Center are very open and available if I need assistance.
What advice can you offer to students or residents coming to MUSC?
I came into this role as a new graduate Nurse Practitioner. For new graduate NPs considering MUSC, there are many specialties that will work with you to help train you in that area. The physicians are always nearby and willing to work together as a team. It has been a great experience for me.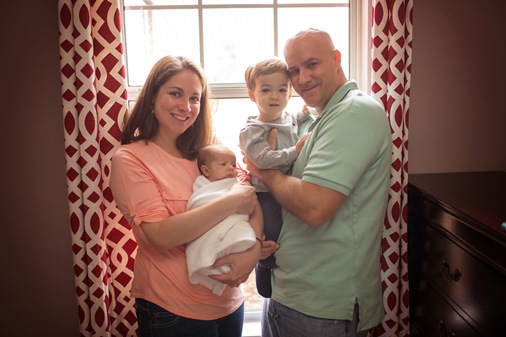 Elizabeth spending time with her family.