Diversity, Equity & Inclusion
Diversity embraces the distinctiveness of each individual and the groups to which each belongs. It acknowledges and celebrates those human qualities that are different from our own and outside the groups to which we belong, as well as our own.
A diverse environment is one that: welcomes and values all people; is grounded in respect for others; is nurtured by open dialogue between those of differing perspectives; and is motivated by action that is characterized by an openness and willingness to change.
Education in a diverse setting prepares students to become good health care partners in an increasingly complex, pluralistic society.
Training
& 

Intercultural Education

A major charge for the director of training and intercultural education is to direct the Division of Education and Student Life (ESL) intercultural and interprofessional student and staff training and initiatives. This also includes planning, developing, coordinating, implementing, managing and assessing intercultural education, and training initiatives; and serving as a University resource for students, faculty, and staff; collaborating with student organizations and advisors in the planning and implementation of programs that enhance intercultural and interprofessional awareness, dialogue, and experiences.
Diversity Committee
The College of Medicine Diversity Committee was initially formed in the Spring of 2001 and was charged with discussing and updating the college's statement on faculty and student diversity, establishing new goals for diversity within the College of Medicine, and assessing recruitment and retention of residents, post-docs, and faculty.
MUSC/McClennan-Banks Resident Society
The College of Medicine's under-represented in medicine residents initiated the McClennan-Banks Resident Society, naming the organization for Dr. Alonzo C. McClennan and Nurse Anna DeCosta Banks, who were known for the operation of the first minority hospital in Charleston, SC.
The Underrepresented in Medicine Visiting Student Program
The Underrepresented in Medicine Visiting Student Program is sponsored by the MUSC College of Medicine Dean's Office and individual departments. The goal of this program is to recruit talented 4th year URM students to MUSC who have met all of the requirements for visiting student electives listed in VSAS.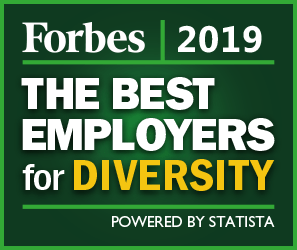 Best Employers for Diversity
The Medical University of South Carolina (MUSC) has been ranked No. 13 out of 500 organizations on the Forbes 2019 list of America's Best Employers for Diversity. In addition, MUSC ranked No. 3 among the 30 institutions listed in the education category.
Learn More