Welcome from the Interim Chair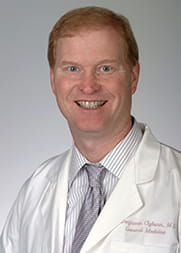 On behalf of all of us in Internal Medicine, I am pleased to extend to you a very warm welcome. Our vision is to excel in all areas of the academic mission, including in education, patient care, and research. And our view is that all of our trainees are an integral part of that mission. Our medical students, your counterparts here in Charleston, rank the Department of Medicine as the best clinical teaching service and our current residents share the opinion.
The Department of Medicine at MUSC is the largest department in the College of Medicine. The Department excels in all areas of academic medicine. We manage a vibrant population of patients with many different kinds of acute and chronic diseases. We are very proud of the outstanding physicians, from generalists to specialists, who care for our patients. Our Heart and Vascular Center, the Hollings Cancer Center, the Digestive Disease Center, Transplantation Programs, and many others provide world-class medical care to patients with common and complex illnesses alike.
The Department's research portfolio is outstanding and is expanding at a rapid rate, and includes experts in basic bench oriented research, translational, and clinical research including in epidemiology, clinical trials, health services, and health policy research. Numerous opportunities to participate in cutting edge research exist for students and trainees at all levels. There are also wonderful opportunities to participate in collaborative projects within the Department and Institution.

The Department's educational and training activities have been put in place with the specific intent of teaching you not only medicine, but also the art of taking care of patients. Hospital-based teaching occurs on active and vibrant general medicine and specialty services. In addition, there has been great recent focus on ambulatory care training in general medicine and specialty clinics. Our training program is an ideal size, neither too large nor impersonal nor too small, and it is geographically centralized. The collegiality among our residents and their satisfaction with their career development will be evident when you visit. Indeed, our residents are among our best "ambassadors," and provide strong evidence of the Department's commitment to clinical and educational excellence. It is abundantly evident that the faculty in the Department is committed to the education of our house staff.

On behalf of our house staff and faculty, I welcome your interest in our Department and our training program. I believe that you will find that our program offers an abundance of extraordinary learning opportunities and is one of the highest quality programs that you will visit.
Ben Clyburn, M.D.
Professor and Interim Chair
Department of Medicine
Medical University of South Carolina