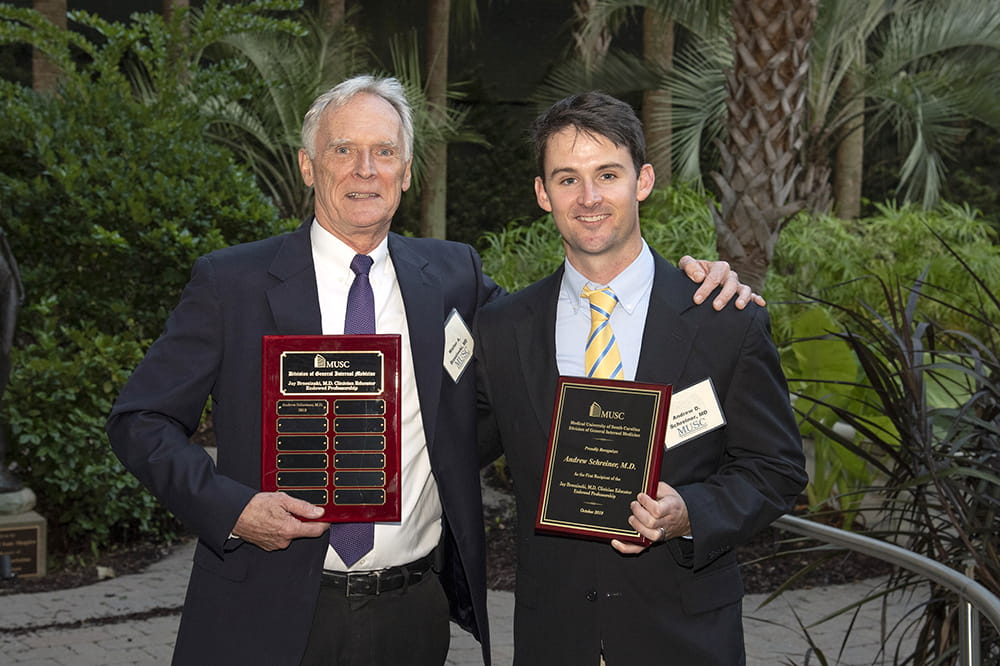 On Oct. 24, 2019, over 75 family members, friends, colleagues and donors gathered at a special ceremony to honor the appointment of MUSC's Andrew Schreiner, M.D., as the first holder of the Jay Brzezinski, M.D., Clinician Educator Endowed Professorship. The professorship was established to support an exceptional junior faculty member who is committed to the clinical and educational excellence to which Brzezinski has devoted his career.
In his remarks at the celebration, Brzezinski spoke of his high regard for Schreiner. "Dr. Schreiner's voracious appetite for learning and his clear and deliberate teaching methods make him an obvious choice for this award," he said. "I am so proud and humbled that my name and this endowed professorship will encourage young physicians to become great teachers for generations to come."
"Dr. Schreiner's voracious appetite for learning and his clear and deliberate teaching methods make him an obvious choice for this award." - Jay Brzezinski, M.D.
Schreiner received his Bachelor of Science degree from the University of Notre Dame and his M.D. from The Ohio State University College of Medicine, followed by an internal medicine residency training at MUSC, where he served as chief resident. Upon completion of his residency, Schreiner joined the faculty at Ohio State. In 2014, Schreiner joined MUSC as a faculty member in the Division of General Internal Medicine. Since that time, he has completed an academic generalist fellowship at MUSC and has had many scholarly and teaching accomplishments. In 2018, he was awarded a five-year $865,000 (K23) grant from the National Institute of Diabetes and Digestive and Kidney Diseases to develop a clinical decision tool to help primary care physicians recognize and treat chronic liver disease in its early stages when interventions are most effective.
Charlie Wendell, a patient of Brzezinski's, spoke at the ceremony celebrating the establishment of the professorship. In his remarks, Charlie referenced a favorite quote by Ralph Waldo Emerson. "'Life is a journey, not a destination', and I think all of us who are here today feel truly grateful that our journeys have coincided with Dr. Brzezinski's," said Charlie.
As the Brzezinski Professor, Schreiner will continue on the path that he has already forged at MUSC, fostering the next generation of internal medicine physicians.

"Dr. Brzezinski is the paragon of clinical and academic excellence," said Schreiner. "As the physician's physician, his patient care is second to none. As the recipient of too many teaching awards to count, he demonstrates the unique ability to routinely take complex scientific concepts and deliver them to eager learners with total clarity. As an investigator and scientist, Dr. Brzezinksi is passionately curious, and inspires all of us with his enthusiasm for learning."
Brzezinski has been a remarkable primary care physician and educator at MUSC for over 25 years. Over the past quarter century, Brzezinski has brought his unique educational touch and exceptional knowledge and compassion to thousands of medical students and resident physicians. He has been consistently recognized by students as an outstanding educator and has received over 50 nominations for teaching awards. Brzezinski has been honored with the Golden Apple Teaching Award six times and is a three-time winner of the Michael Assey, M.D., Teaching Award by internal medicine residents, which recognizes the best attending physician of the year.
MUSC is deeply appreciative of the generosity of our many loyal donors who contributed $500,000 over the past six years to make this professorship a reality. Your support enables MUSC to honor our faculty's clinical excellence and their commitment to teaching the next generation of internal medicine physicians.
View the images from the celebration: