Neurology Resident Core Curriculum
The neurology resident curriculum consists of 5 hours per week of required conferences which take place daily at noon. The curriculum has been designed to cover clinical and basic science topics emphasized by the board examination as outlined by the American Academy of Neurology. Lectures are given by faculty members from various departments within the University on a 12-month cycle. Many of these lectures are recorded, and are available on line for individual study.
Morning Report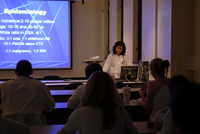 Morning report is conducted Tuesday mornings at 8 a.m. and Wednesday mornings at 7:30 a.m. This consists of a resident-led discussion of an interesting case, precepted by an attending. 
Clinical Neurophysiology Conference
This conference is scheduled for Thursday mornings 10 a.m. to 11 a.m. Early in the academic year introductory topics in EEG, EMG, and Evoked Potentials are presented. The conference then turns to a case based format with presentation of actual studies and a literature review. Monthly Movement Disorders Phenomenology is included in this conference.
Neuroscience Grand Rounds
This conference is scheduled for Thursdays 11 a.m. to 12 p.m. Speakers include attending faculty as well as guest speakers. Divisions participating in this endeavor include Adult Neurology, Pediatric Neurology, Neurosurgery and Basic Neurosciences.
Research
Resident participation in research is strongly encouraged. Residents in their 2nd, 3rd, and 4th years of training are required to choose a research project and present it at Neuroscience Research Day, which occurs each year in May. Projects may be as simple as a case report, but residents have chosen to participate in basic science research, retrospective chart reviews, and in some cases prospective clinical trials. Those who anticipate pursuing a career in academic medicine have the option of devoting a six-month elective period to pursue a more complex project. Research opportunities are available in multiple areas including neuropharmacology, neurobiology, neurochemistry, and neuroimaging. Emphasis is upon clinical research and novel features of patient disorders, with opportunities to participate in clinical therapeutic trials. Recent resident projects have included:
Detection and treatment protocols of nonepileptic seizures.
Functional neuroimaging in Epilepsy.
Prediction of outcome following epilepsy surgery.
Study of cardiac physiology during Complex-partial, GTC, and Nonepileptic seizure activity.
MRI based assessment of atherosclerotic plaque composition in cerebrovascular disease.
Predictors of outcome following intracranial hemorrhage.
Clinical utility of APOE4 genotyping in dementia patients.
Predictors of clinical response to disease-modifying therapies in multiple sclerosis.