Chairman's Message
Welcome to the website for the MUSC Department of Pathology and Laboratory Medicine. We appreciate your interest and invite you to learn more about the diverse and dynamic activities of our Department as you explore our website. The discipline of Pathology is uniquely positioned at the intersection between clinical care and the basic sciences. In keeping with this, you will see that the MUSC Department of Pathology and Laboratory Medicine does everything from developing and applying new cutting-edge methods of patient care in the clinic to performing fundamental investigations of the processes that cause disease.
The MUSC Department of Pathology and Laboratory Medicine is recognized nationally for its commitment to undergraduate and graduate medical education, its expertise in clinical pathology in a variety of areas such as clinical chemistry, cytopathology, dermatopathology, forensic pathology, hematopathology and surgical pathology and its dynamic research programs in experimental pathology. Fifty-three faculty members have full-time appointments in the Department and have their homes in the Divisions of Anatomic Pathology, Laboratory Medicine or Research Pathology. Members of our faculty serve or have served in leadership positions in several national pathology societies including the College of American Pathologists, the American Society for Clinical Pathology, the United States and Canadian Academy of Pathology, the Arthur Purdy Stout Society of Surgical Pathologists and the North American Society of Head and Neck Pathologists. Many of our faculty are also editors and editorial board members for prestigious journals such as The American Journal of Pathology, Genes, and Cancer, Laboratory Medicine, Neuro-Oncology, the Archives of Pathology and Laboratory Medicine and the Journal of Neuropathology and Experimental Neuropathology. As we recognize our responsibility to the community outside MUSC, we make every effort to share this experience as demonstrated by our highly popular Spring Pathology Symposia that are held annually on Kiawah Island.
The MUSC Department of Pathology and Laboratory Medicine has approximately $5 million dollars in extramural funding annually and is consistently ranked in the upper half of pathology departments in the United States for National Institutes of Health funding. Our Department has outstanding research programs in many important fields such as cancer biology, stem cell biology and deafness. Genetics and cancer genomics are areas in which we are aggressively expanding our research programs as these areas have the potential to fundamentally change the way we perform pathology and provide patient care. The Department houses Core facilities that provide essential research services such as high-throughput genomic sequencing, tools for manipulating gene expression in cells and experimental animals and cutting-edge microscopic techniques to investigators at MUSC and at other research institutions throughout the state of South Carolina. We additionally have nationally recognized training programs for graduate students, residents and fellows interested in pathology research. The success of these programs is attested to by the success our trainees have enjoyed when presenting their work at prominent national meetings and when publishing in high impact journals.
Please explore our website to learn even more details about our exciting missions. We continually update our progress in The Path Way our quarterly newsletter, so check back often to learn what is new in the Department. If you are interested, we are always happy to speak with you regarding ways you can contribute to our clinical, research, and teaching missions.
Best regards,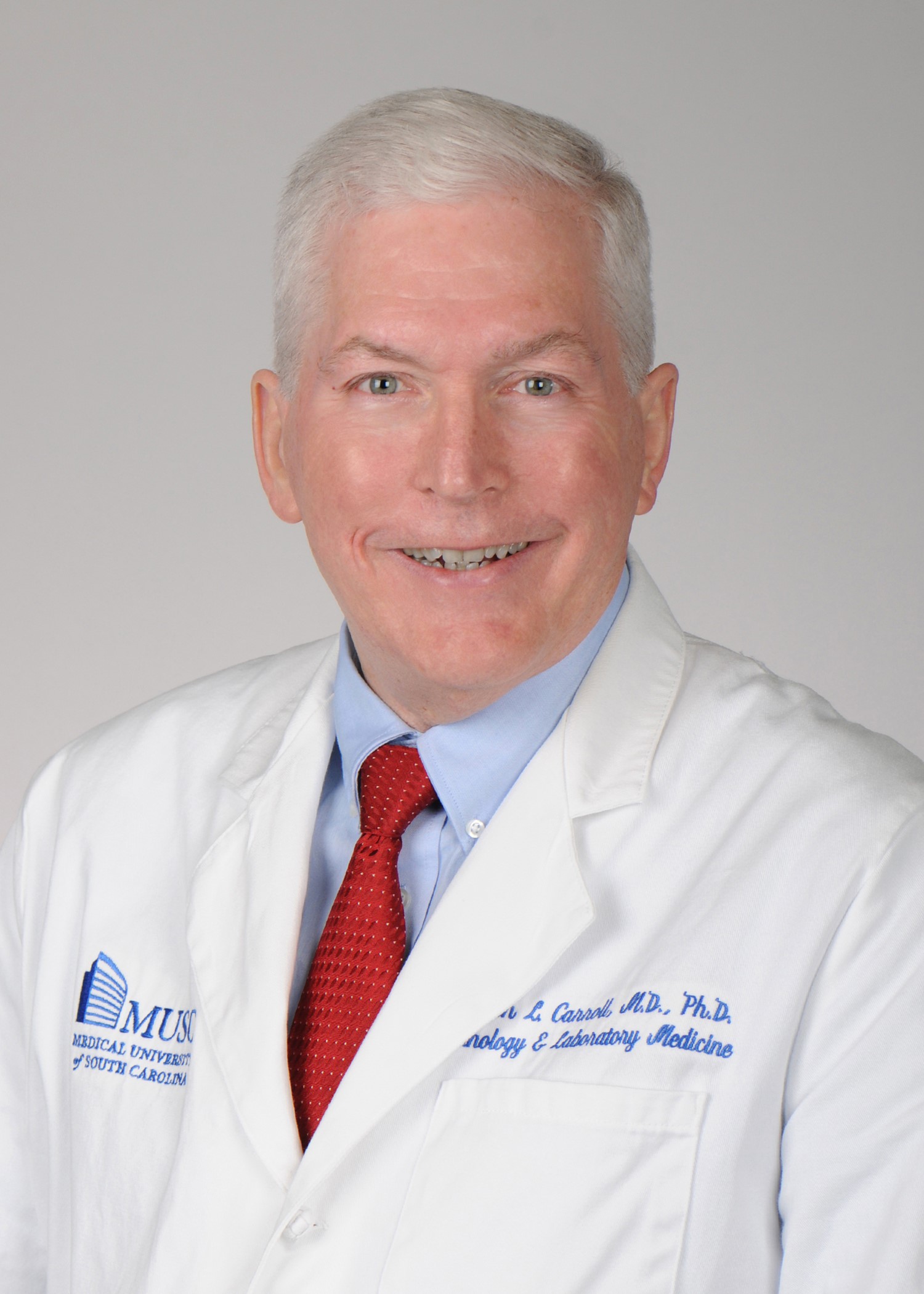 Steven L. Carroll, M.D., Ph.D.
Professor & Chair of the Department of Pathology and Laboratory Medicine