MUSC Department of Medicine Annual Report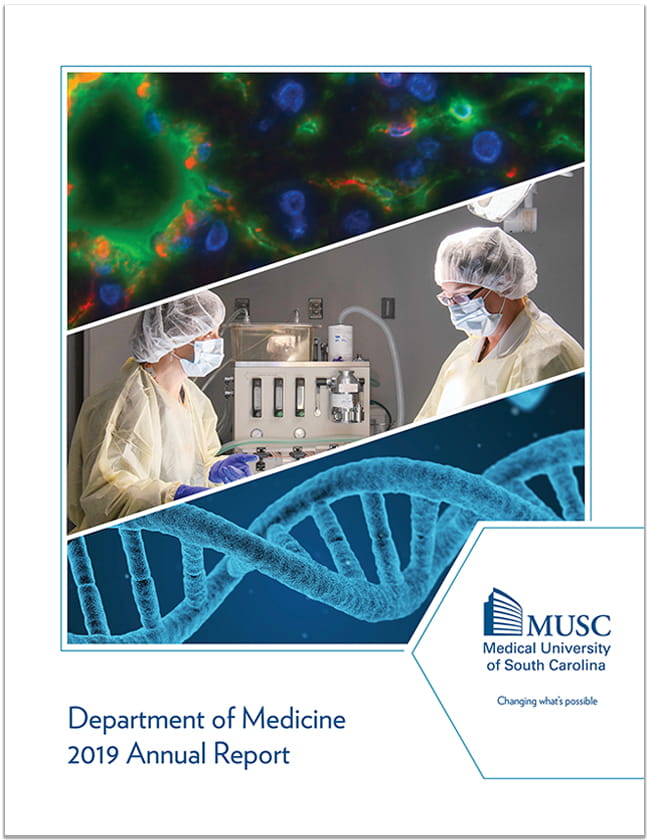 Each year, the Department of Medicine publishes an Annual Report highlighting many of our accomplishments, research initiatives, and treatment advances from the past year, and recognizing awards and honors of our faculty, fellows, residents and administrators.

The past academic year was one of extraordinary growth and progress across the Department of Medicine's tripartite mission of patient care, education and research. In fact, by virtually every metric, this last year was one of the most successful in the Department's history - thanks to the commitment of our dedicated faculty, staff, and leadership.

Some particularly noteworthy Departmental highlights from this past year include the following:
Our expertise was acknowledged with U.S. News & World Report recognition for our clinical programs with MUSC Health's Rheumatology program ranking 13th best in the country by USNWR in 2019. In addition, our Hematology & Oncology program was highly ranked again this year, coming in at No. 32 and our Nephrology program was recognized as high-performing.
In research, we had our best year ever, with over $48 million in research awards and over $30 million in research expenditures in FY19.
The Department's clinical programs have continued to grow in both volume and quality over the past year. Compared to FY18, the Department's work product (wRVU's) grew by 11% and our new patient visits increased by an extraordinary19%.
Download and read the 2019 DOM Annual Report (PDF)