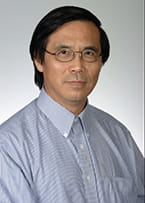 Professor
Division of Endocrinology, Diabetes & Metabolic Diseases
The Huang laboratory aims at molecular mechanisms involved in diabetic complications, in particular cardiovascular disease and periodontal disease. The laboratory uses several animal models and cell culture systems to investigate how metabolic disorders such as diabetes-associated dyslipidemia and hyperglycemia act in concert with lipopolysaccharide (LPS)-induced innate immunity to stimulate inflammatory signaling, leading to exacerbated atherosclerosis and periodontitis. The laboratory particularly focuses on translational research by actively exploring potential targets that are essential for developing novel therapeutic strategies for diabetic complications.
Research in the Huang laboratory investigates inflammation-related biological processes such as receptor-mediated signaling pathways, gene transcription and post-transcription, and cell proliferation, migration and apoptosis. In addition, the research also investigates the role of sphingolipid metabolism in the regulation of gene expression and cell functions. The recent studies have focused on the interaction between LPS and high-fat diet enriched with saturated free fatty acids on promotion of atherosclerosis and periodontitis, and the underlying molecular mechanisms. The laboratory has made several important contributions in the area of diabetic complications.
Publications: