Chairman's Message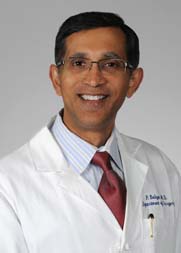 The future is bright for the Department of Surgery as we work to improve the lives of our patients while seeking cutting-edge solutions that are moving the field into the next era of surgical excellence.
Our faculty is deeply committed to enhancing surgical resident education. We look forward to the opportunity to educate the surgeons of the future, realizing the next era of surgical excellence is in harnessing the talent and energy of the current generation onto the solid foundation of our proud history. 
Across the department, we are demonstrating an exemplary model of multidisciplinary collaboration. From our surgeons to researchers to residents, we have a great team that works closely together, supports each other and cares deeply about our patients. Our scientific curiosity and deep commitment to improving the lives of our patients guide our surgeon-scientists.

This website provides information and resources pertaining to our surgical expertise, best-in-class resident education programs and innovations in research with appropriate contact information.  

If, however, you need more information specific to a particular area of interest, please visit our contact information page.
Prabhakar Baliga, M.D., FACS
Department Chair